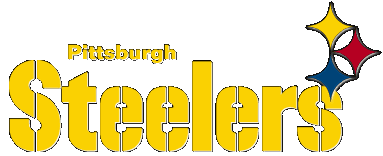 « 1999 Steelers News »
---
9/11/99 Bettis Says He's Ready to Go!
• Jerome Bettis says he's ready to play Sunday in the season-opener against the New Cleveland Browns. Bettis had injured his knee early in training camp and underwent arthroscopic knee surgery on August 3, 1999. He will most likely share the RB duties with Richard Huntley.

4/17/99 - 4/18/99
• Draft Picks -- DAY 1 -- Saturday, April 17th
Round 1 -- 13th pick -- Troy Edwards - WR - Louisiana Tech
Round 2 -- 28th pick ( from Minnesota) -- Scott Shields - DB - Weber State
Round 3 -- 12th pick (from Washington through Minnesota) -- Joey Porter - DL - Colorado State
Round 3 -- 13th pick -- Kris Farris - OL - UCLA
Round 3 -- 34th pick (Compensatory Selection) -- Amos Zereoue - RB - West Virginia
DAY 2 -- Sunday, April 18th (current scheduled selections)
Round 4 -- 14th pick -- Aaron Smith - DL - Northern Colorado
Round 5 -- 3rd pick (from Indianapolis) -- Jerame Truman - TE - Michigan
Round 5 -- 13th pick -- Malcolm Johnson - WR - Notre Dame
Round 7 -- 8th pick (from San Diego) -- Antonio Dingle - DL - Virginia
Round 7 -- 13th pick -- Chad Kelsay - LB - Nebraska
Round 7 -- 22nd pick (from Arizona) -- Kris Brown - K - Nebraska
«««»»»
4/7/99
• Draft Day Schedule
The NFL office has determined the Steelers' 1999 NFL Draft position. The Steelers will select
13th overall in the draft, which will be held April 17-18 in New York, their highest position since 1992 when
Pittsburgh had the 11th selection overall.
The Top 19 draft positions are as follows: 1. Cleveland; 2. Philadelpia 3. Cincinnati; 4. Indianapolis;
5. Washington (from Carolina); 6. St. Louis; 7. Chicago; 8. Arizona (from San Diego); 9. Detroit; 10. Baltimore;
11. Washington; 12. New Orleans; 13. PITTSBURGH; 14. Kansas City; 15. Tampa Bay; 16. Tennessee; 17.
Seattle; 18. Oakland; and 19. New York Giants. The final 12 draft positions will be determined pending playoff
results.
The Steelers Draft positions (currently) are as follows:
Round 1 ----- 13th pick
Round 2 ----- 13th pick
Round 3 ----- 13th pick
Round 3 ----- 34th pick ** Compensatory Selection
Round 4 ----- 14th pick
Round 5 ----- 3rd pick ** From Indianapolis
Round 5 ----- 13th pick
Round 5 ----- 33rd pick ** Compensatory Selection
Round 7 ----- 8th pick ** From San Diego
Round 7 ----- 13th pick
Round 7 ----- 22nd pick ** From Arizona
«««»»»
4/7/99
• Strzelczyk Out? (ESPN)
Right tackle Justin Strzelczyk had surgery Wednesday on his right knee. He may miss all of the upcoming season.
Strzelcyzk had been expected to challenge for a starting spot this year.
«««»»»
4/7/99
• Steelers Sign Gandy (ESPN)
Wayne Gandy said yes to a four-year contract Tuesday. The 6-foot-5, 300-pound left tackle's contract is worth $14 million, including a signing bonus of more than $3.5 million, according to ESPN The Magazine's John Clayton. With the signing of Gandy, the Steelers had to release offensive lineman Will Wolford on Wednesday to stay under the salary cap. Wolford
had been expected to announce his retirement if the Steelers signed a new OL. Wolford had said that he might put off retirement if the Steelers were unable to secure a new OL.
«««»»»
4/6/99
• Arnold Gone (ESPN)
Pittsburgh sent returner-receiver Jahine Arnold to Green Bay on Tuesday for past considerations. Arnold has been plagued by injuries the past two years, including a torn ACL, a collarbone injury, and an injured finger which needed surgery.
«««»»»
4/2/99
• 1999 Schedule Released
To view the Steelers' schedule, point your mouse here and click! We start off the season in a much-anticipated way: at Cleveland. There is one Monday Night game, one Thursday night game, and one Saturday game. The BYE week for us is in Week 8 (October 31).
«««»»»
4/1/99
• Van Dyke Acquired (ESPN)
The Steelers acquired wide receiver Alex Van Dyke last Thursday from the Jets in exchange for a sixth-round draft pick in the upcoming draft.
«««»»»
3/16/99
• Clarence Jones to Tour Three Rivers (ESPN)
Tackle Clarence Jones, a free-agent starter from New Orleans, is scheduled to visit Three Rivers Stadium this coming
Monday (March 22), the Pittsburgh Post-Gazette reported. The Steelers have tried to sign Wayne Gandy, but the sides have not been able to get together on a contract. The Steelers have offered Gandy a four-year, $13 million deal, however, Gandy is looking for a contract in the $17 million range. "If the player doesn't want to play, we need to move onto another option," said Tom Donahoe, their operations director.
«««»»»
3/12/99
• Steelers Lose Darren Perry to Chargers
Perry signed a two-year deal with the San Diego Chargers today. The financial aspects were not released. Are there any Steelers players left?!?!? Do we still have a team?!?! I know this will all play out in the end.....
«««»»»
3/99
• Steelers Awarded Extra Picks (ESPN)
The Steelers were awarded two compensatory draft picks for losing wide receiver Yancey Thigpen (Tennessee) and tackle John Jackson (San Diego) during free agency last season. The picks will be in the third round and in the fifth round. ...
«««»»»
3/4/99
• Gandy Offered Contract (ESPN)
Offensive tackle Wayne Gandy, a free agent who played for the Rams last season, was offered a four-year deal
with the Steelers. Gandy would replace retired left tackle Will Wolford. Gandy, 28, blocked for running back Jerome
Bettis when Bettis was with the Rams, and Bettis has been encouraging Gandy to sign with Pittsburgh.
«««»»»
2/25/99
• Stokes wants opportunity (ESPN)
Wide receiver J.J. Stokes, who turned down a $3 million annual salary offered by San Francisco, said he's interested in joining the Steelers as long as they give him a chance to play every down. "I just want a fair deal and the chance to play every down," Stokes said. "I feel if I get here, I just want to play every down and be a piece of the puzzle. If they really want me, I feel like I would be here."
Ironic's Note: HEY GUYS! We NEED a go-to guy!!! Read: A WIDE RECEIVER!!!!! Especially since CJ isn't around any more.....
«««»»»
2/25/99
• Sad Words (ESPN)
Former Steelers center Mike Webster, who was inducted into the Pro Football Hall of Fame in 1997, has been charged with forging a prescription for Ritalin, a stimulant used to treat attention deficit disorder. Webster has battled recurring financial and health problems since retiring from the NFL in 1990.
«««»»»
2/17/99
• Sweet Words
FINALLY, the Steelers have re-signed a free agent -- and an important one, at that. Lethon Flowers, starting strong safety for the Steelers, decided to stay put. His deal is reportedly worth $10 million over four (4) years.
Completing his first year as a starter in 1998, Flowers finished as the Steelers' second leading tackler with 117 total stops, including 94 solo tackles. He also forced three fumbles, recovered two fumbles, and was credited with a sack, 6½ tackles for losses and five passes defended.
Thank God for small miracles.
«««»»»
2/17/99
• Just Stab Us Again
Free agent linebacker Donta Jones signed a four-year deal with the Panthers. Jones had 32 tackles last season and a career high three sacks for the Steelers. The monetary specifics of his deal were not disclosed.
Ironic's Note: C'mon, Donta.... let us cry over what we SHOULD have paid you to stay....
«««»»»
2/16/99
• Pittsburgh Post-Gazette Reportings
According to the Pittsburgh Post-Gazette, Jags safety Chris Hudson, Rams offensive tackle Wayne Gandy and Falcons safety Devon Bush will visit the Steelers within the next week.
Also according to the P-G, the Tennessee Titans (formerly the Oilers) are interested in Tim Lester.
«««»»»
2/16/99
• No American Bowl in Mexico
The Cardinals will not play in the American Bowl against the Steelers in the upcoming exhibition season. NFL sources told The Arizona Republic (newspaper) that the game has been canceled because the league could not reach a financial agreement with Mexican officials. This means that the Steelers will have only four (4) pre season games this year.
«««»»»
2/16/99
• Yet More Losses To Free Agency....
..... will the slashing of our ranks ever stop?!?! The Philadelphia Eagles signed wide receiver Charles Johnson to a five-year, $15 million deal. Johnson was with the Steelers for five seasons.
«««»»»
Ummm.... HELLO?! HOW ABOUT SIGNING SOMEONE ELSE'S FREE AGENTS since we're letting all of ours go?!?!? The Steelers are GIVING their players away, and not TAKING from anyone else!!!
«««»»»
2/13/99
• Just When You Think....
...you've got a career player on your hands, he takes off for Jacksonville. Free agent, Carnell Lake became a Jaguar on the first day of free agency. Lake, who played with the Steelers for 10 years, will be sorely missed by the team and fans. Lake is reunited with former Steeler defensive coordinator Dom Capers in Jacksonville. Lake signed on for four (4) years and $18 million.
Ironic's Note: Dammit all to hell! Free agency ALWAYS kills us! Can't we PLEASE pay a player to stay??? Just ONCE?!?!?!? Lake will be a tough one to replace, period.
«««»»»
2/11/99
• Steelers Keep Breuner
For a change, the Steelers were able to keep a player eligible for free agency: Mark Breuner -- for $11 million. Breuner, one of the NFL's best blocking tight ends, signed on for another 4 years.
Ironic's Note: HOORAY!! We kept a free agent! WOW.
«««»»»
2/5/99
• New stadium plan approved (ESPN)
The Steelers and Pirates were informed that the state Legislature approved funding for two new stadiums that will lock the teams into staying in Pittsburgh for at least 30 more years.
Coupled with a regional sales tax and $116.4 million from the two teams, the state will fund a 65,000-seat football stadium -- the first to be occupied solely by the Steelers -- and a 38,000-seat Pirates ballpark that will be the smallest of the majors' new, vintage-era stadiums.
The new football stadium will stand across the street from Three Rivers Stadium. Three Rivers will be demolished after both new stadiums are completed.
Ironic's note: Thank you, City of Pittsburgh and all involved, for keeping the stadiums in the area of the three rivers -- that area is the most picturesque of all the ballpark areas country-wide.
«««»»»
1/13/99
• Veteran Wolford Retires (ESPN)
Offensive tackle Will Wolford, who played much of last season with a torn chest muscle, is retiring after 13 years
in the NFL. Wolford does not plan to send official notice to the NFL so the Steelers can list him as one of five players the team must make available to the Cleveland Browns in next month's expansion draft. The list was due at the league office Tuesday.
Steelers expected to join Wolford on the list are tight end Mitch Lyons, safety Bo Orlando, wide receivers Jahine Arnold or Henry Bailey and one other player.
«««»»»
1/7/99
• Gilbride to run Steelers' 'O' -- Associated Press
PITTSBURGH -- Kevin Gilbride, one of the finalists when the Pittsburgh Steelers chose Bill Cowher as coach seven years ago, finally was hired Thursday by the Steelers as their offensive coordinator.
Gilbride, fired as San Diego's coach in October after going 6-16 and clashing with general manager Bobby Beathard, was picked by Cowher to replace Ray Sherman only hours after arriving for an interview.
"There was no timetable on this thing, but the more I talked around the league the last couple of days, this man was the right man for the job," Cowher said.
Sherman quit after the Steelers' offense collapsed during their first losing season since 1991, scoring only three touchdowns in the last 6½ games. After watching the Steelers' offense slump from sixth in the NFL in 1997 to 25th and quarterback Kordell Stewart struggle with his confidence and throwing during a 7-9 season, Cowher wanted an offensive coordinator
skilled with quarterbacks.
Stewart had only 11 touchdown passes and two touchdown runs after throwing for 21 touchdowns and running for 11 in his first season as a starter in 1997.
Gilbride, who has a reputation as one of the NFL's most innovative offensive minds, developed quarterbacks Warren Moon in Houston and Mark Brunell in Jacksonville while coaching league-leading passing offenses in both cities. The 47-year-old Gilbride also will hold the title of quarterbacks coach (THANK YOU FOR LISTENING TO ME, BILL!), the first Steelers assistant coach to do so since Babe Parilli worked with a young Terry Bradshaw from 1971-73. (Note: Look where Bradshaw took us.....)
"We were very fortunate he was available," said Cowher, who had a shortage of candidates last February when Chan Gailey left to coach the Cowboys. "He's done a great job with every quarterback he's been around, a guy from an offensive coordinator's standpoint whose record speaks for itself."
The hiring came so quickly that Gilbride hadn't even talked with his wife when he met with reporters. He didn't arrive in Pittsburgh until Wednesday night, but it became apparent by Thursday morning that Cowher didn't want to formally interview other candidates.
Cowher had planned to interview former Chicago Bears offensive coordinator Matt Cavanaugh on Friday, then meet with former Seattle Seahawks coach Dennis Erickson next week. Steelers tight end coach Mike Mularkey also was interested.
"Bill Cowher can be very persuasive and very persistent. It happened much more quickly than I expected," Gilbride said.
Gilbride is eminently familiar with the Steelers, coaching against them twice a season from 1989-93 with Houston and 1995-96 with Jacksonville. His teams were a combined 8-7 against the Steelers.

1998 <><><><><><><><><><><><><><><><><><><><><><><><><
9/1/98
• Steelers' Wiggins suspended for taking muscle builder
PITTSBURGH (AP) - What's good for Mark McGwire isn't good for Pittsburgh Steelers tackle Paul Wiggins. The NFL has suspended Wiggins for taking androstenedione, the same muscle- building supplement that McGwire takes. Wiggins will miss the first four weeks of the NFL season. The NFL bans the use of the supplement, while major league baseball does not. "I don't blame Mark McGwire for taking a legal supplement," Wiggins, a backup offensive tackle, said Sunday. "He's an athlete trying to get the best edge he can. But, yes, selfishly, it's unfair that he's a pro athlete and I am too, and he can take it and I can't." Wiggins said he bought the supplement at a store in Oregon and didn't know it was forbidden by the NFL.
««« »»»
8/28/98
• Call Cowher The Bearded Coach (ESPN SportsZone)
Coach Bill Cowher said Thursday he will keep his beard for the regular season, which will unofficially place him in a select NFL circle: No NFL head coach has ever had a beard for a regular-season game.
According to a report in the Pittsburgh Post-Gazette, no league statistics are kept on such things, but nobody in the NFL office in New York could remember a coach with a beard.
Cowher originally grew the beard during the offseason, and though he shaved it off grew it back before training camp began.
««« »»»
8/28/98
• Steelers To Play Next Year In Mexico (ESPN SportsZone)
According to several sources, the Steelers will play a preseason game next season against the Cardinals in Mexico. "They've talked to us about it, but have not confirmed it with us yet," Steelers President Dan Rooney told the Pittsburgh Post-Gazette.
The game which has not officially been announced is being talked about taking place in either Mexico City, Monterrey or Guadalajara.
««« »»»
8/14/98
• Stai Signs Through 2001 for 7K
PITTSBURGH (AP) -- The Pittsburgh Steelers signed Brenden Stai to a three-year, $7 million
contract Friday, securing part of a line that has lost tackles Leon Searcy and John Jackson
and All-Pro guard Duval Love to free agency. Stai, a fourth-year player from Nebraska, has
started 27 games and the 1996 Super Bowl over three years.
The signing of Stai at right guard means that Alan Faneca, this year's first-round draft choice
from Louisiana State, probably will play left guard. Will Wolford is now at left guard but may
move to left tackle this year to replace Jackson, a free agent who signed with San Diego.
Another possibility is that right tackle Justin Strzelczyk will switch sides and either Jamain
Stephens or Paul Wiggins will take his place.
Stai will be with the Steelers through 2001. With him at guard last year, the Steelers
allowed only 20 sacks, the fewest in the NFL. The line also cleared the way for Jerome Bettis
to gain 1,665 yards, the second-most ever by a Steelers running back.
««« »»»
7/15/98
• Lloyd Released!!!!
(AP) - Greg Lloyd, a five-time Pro Bowl linebacker whose nasty temperament and aggressive play personified the Pittsburgh Steelers' defense for much of the 1990s, was released Tuesday. Director of football operations Tom Donahoe said the Steelers unsuccessfully tried to trade Lloyd, who is coming off two serious injuries in as many seasons. Lloyd limped badly during mini-camp in May as the result of an ankle sprain and staph infection sustained in November. The move, which was not unexpected, came six days before the Steelers open training camp.
By waiving Lloyd, 33, the Steelers save $2.8 million under the salary cap.
««« »»»
7/15/98
• Cowher in Steel-Town until 2001
(AP) - Pittsburgh Steelers coach Bill Cowher has agreed to a three-year contract extension that will pay him at least $2 million a year, The Pittsburgh Post-Gazette reported Tuesday. Cowher and the Steelers have worked out the framework of the extension and are expected to complete the details before training camp opens Monday, according to the newspaper. Cowher had two years left on a contract he signed in 1996 that paid him a little more than $1 million a year. The extension means Cowher will be coaching in Pittsburgh at least through 2001. The deal raises Cowher's pay into the top rank of NFL coaches, as he had demanded when he hired noted coach's agent Robert
Fraley earlier this year.
Cowher said yesterday he never wanted to leave Pittsburgh and the only reason he wanted an agent was that he felt so uncomfortable talking contract with Steeler President Dan Rooney and son Art Rooney II.
Cowher is 69-38 in six seasons and has reached the AFC championship game 3 times in 4 years, yet at 41, remains the NFL's second youngest coach.
Ironic's note: Thank you boys for listening to me and working things out! I really would have hated to see Cowher head to the Browns or some other squirly team...(WHEW!!)
««« »»»
5/13/98
• Cowher Signs Agent
Steelers Coach Bill Cowher signed an agent to represent him during contract negotiations.
Robert Fraley of Orlando, FL., is a high-profile agent who also represents the likes of NFL coaches Bill Parcells, Tom Coughlin and Dan Reeves. Cowher appears to be making a statement about his net worth. He reportedly is seeking to double his salary to $2 million a year. If you ask me, I think that he is worth the cash, especially when you look at his track record, and when you realize that many of his players make over $5 million -- or $25 million if you're Levon Kirkland. This hiring of an agent for Cowher may signal some difficulty in the talks between Coach and the Steelers. WE
WANT COWHER TO STAY!!!!!!! Work it out, boys.
««« »»»
5/13/98
• Chad Scott Out With Torn ACL
Well, it seems that as long as the Steelers keep signing top prospects at cornerback in the first round, they will keep sustaining serious knee injuries. Scott tore his ACL during a routine offseason workout and could possibly miss the entire 1998 season.
««« »»»
5/12/98
• Lloyd On His Way Out?
Steelers Outside Linebacker Greg Lloyd might be on his way out. Health problems, age, and $2.8 million salary may be the things that push Lloyd out of the Steelers picture -- those things, and the Steelers' second-year converted DE Mike Vrabel. Lloyd is 33. Vrabel is 23. Lloyd has had a myriad of health problems. Vrabel is healthy. Lloyd costs a pretty penny. Vrabel is still relatively inexpensive. (Ironic's Editor's Note: Vrabel is from AKRON, OHIO -- 15 minutes down the road from me!)
Lloyd is fighting back from an ankle injury and a subsequent severe staph infection. He is hoping for a full recovery by June 1. "Everybody knows how good he is. ... I just want to try to learn this position and see how good I can be," Vrabel said. Lloyd may also become a salary cap casualty......
««« »»»
4/18/98 --- 4/19/98
• Draft Day 1 Selections for Steelers
• 1st Round : Allen Faneca, OL, LSU [6-4", 322 lbs.]
• 2nd Round : Jeremy Staat, OL, Arizona State [6-5", 299 lbs.]
• 3rd Round : Chris Conrad, OL, Fresno State [6-6", 298 lbs.]
• 3rd Round (Compensatory pick) : Hines Ward, WR, Georgia [5-11", 190 lbs.]
»» NOTE: The Steelers only drafted only 4 players on Saturday because they
traded with the Jets to get a high second round guy (Staat).
• Draft Day 2 Selections
• 4th Round : DeShea Townsend, DB, Alabama [5-9", 179 lbs.]
• 4th Round (Compensatory pick) : Carlos King, FB, North Carolina State [6-0", 230 lbs.]
• 5th Round (from Atlanta) : Jason Simmons, DB, Arizona State [5-8", 187 lbs.]
• 6th Round : Chris Fuamatu-Ma'afala, RB, Utah [5-11", 252 lbs.]
• 6th Round (Compensatory pick) : Ryan Olson, DL, Colorado [6-1", 270 lbs.]
• 7th Round (traded to Atlanta)
• 7th Round (traded to Atlanta)
• 7th Round (traded to Atlanta)
• 7th Round (Compensatory pick): Angel Rubio, DT, Southeast Missouri State [6-1", 300
lbs.]
««« »»»
4/18/98
• Draft Day Selection Order
The Steelers will have the following picks:
1st Round: 26th pick
2nd Round: 25th pick
3rd Round: 5th pick (from SanDiego) and 26th pick
--> Compensatory pick at end of round
4th Round: 25th pick
--> Compensatory pick at end of round
5th Round: 26th pick
6th Round: 25th pick
--> Compensatory pick at end of round
7th Round: 10th pick (from Baltimore) and 26th pick
--> Compensatory pick at end of round
««« »»»
4/5/98
• Gildon Signs On With Steelers For 4 Years, Steed Also Along For Ride
PITTSBURGH (AP) -- Fresh off a record-setting deal with Levon Kirkland, the Pittsburgh Steelers agreed to a four-year deal with linebacker Jason Gildon that will pay him almost $9 million.
Gildon, an unrestricted free agent, has been the Steelers' starting outside left linebacker since Kevin Greene opted for free agency two years ago.
The deal comes on the heels of Kirkland's five-year, $25 million contract, which made him the highest-paid inside linebacker in the NFL. Gildon, like Kirkland, had five sacks last season.
Friday's deal helps solidify the team's defense. Besides Gildon and Kirkland, the Steelers also signed nose tackle Joel Steed to a four-year, $15.4 million deal.
The only unrestricted free agent left on the team is strong safety Myron Bell.
With the signing of Gildon, the Steelers now must decide what to do with outside linebacker Greg Lloyd, who is scheduled to count $3.475 million against their salary cap next year.
««« »»»
4/3/98
• Cowher's Future With Steelers Remains Unclear
Current Steelers Head Coach Bill Cowher's contract runs through the 1999 season, but will he spend his days after that with the Steelers? There is nothing that suggests him staying OR leaving. He is reluctant to give up any info, as he is in negotiations with the Steelers. If he doesn't continue with the Steelers, you can look for him taking a long hard look at the upcoming Cleveland Browns team.... the team he has ties in the past with. If an agreement isn't reached by the end of the 1998 season, look out... Cowher's current salary is undisclosed, yet is figured to be somewhere around $750,000. He feels that, as one of the league's top coaches, he deserves to be paid accordingly. The Steelers would like to hang on to Cowher. He is popular among fans and players, as well as the Steelers' front office. HEY! Let's keep Cowher and his winning ways in Pittsburgh!
««« »»»
4/2/98
• Steelers 1998 Season Schedule Released
The Steelers 1998 Schedule was released today. It includes 3 (Count 'em -- THREE) Monday Night Football Games! Also included is the Annual Thanksgiving Day Game with the Detroit Lions.
Take a look at the schedule here.
««« »»»
4/1/98
• Steelers Sign Levon Kirkland to a Record Deal
In light of the usual free agent losses, the Steelers took a step forward (as opposed to backward) and signed LB Levon Kirkland to a $25 million, 4-year contract continuation. He also receives a $5 million signing bonus and a reported average salary of $6.25 million beginning with the 1999 season. Kirkland made All-Pro last season for the first time in his career, and the Steelers showed their appreciation with the contract extension. Levon was the second player drafted by the Steelers in 1992, the year Cowher was hired as head coach. This is a happy day for us Steeler fans -- for a change, we didn't lose one of our core players. This is a breath of fresh air after losing WR Yancey Thigpen to free agency. "The Steelers have lost a lot in free agency, but with all the changes they definitely have something that's working here," Kirkland said. "I'm just glad to be part of the plan. It may look like we're losing this guy and that guy, but there's definitely a plan here. You can't question when you win." I agree, Levon.
• Steelers Get 4 Compensatory Picks in 1998 Draft
After losing 6 free agents this year, the NFL is giving the Steelers a helping hand. Both Dallas and Pittsburgh are getting extra picks in this year's draft, since both teams have lost the most players to free agency. The Steelers will get their extra picks at the end of the third, fourth, sixth, and seventh rounds. The draft takes place April 18-19.

---


Questions? Comments? Mail them to Ironic.
Return to Main Page to view Disclaimer.
Property of Ironic.
©1999.