Steelers Stadium Page
Info on the new stadium being built.
---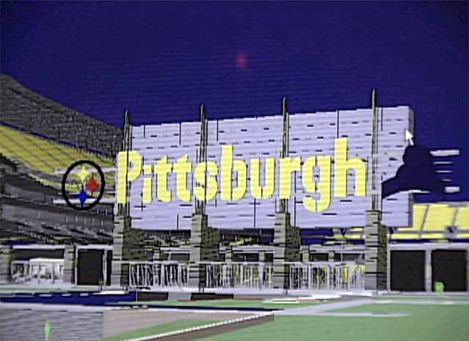 Front View (KDKA-TV, courtesy of HOK Sports)

Info about the Stadium:
• Will seat 65,000
• More seats on the lower level and along the sidelines
• More RESTROOMS!!!
• State-of-the-Art scoreboard and sound system
• Open end at the south end zone -- providing view of downtown skyline
• The stadium will also host concerts and other large events
• OF COURSE, Steel will be a primary building material!!!
• There will be a roof structure over the upper seating bowl
• The construction site is on the old Kaufmann's Warehouse site
• Steel structure construction scheduled to begin in December, 1999
• Anticipated date of completion: August, 2001
(Basic info from www.pittsburghsteelers.com -- click to read more)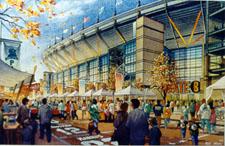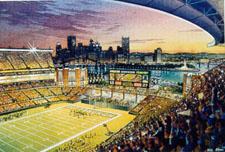 Outside view South end zone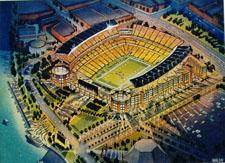 Overhead view

---

Seating Charts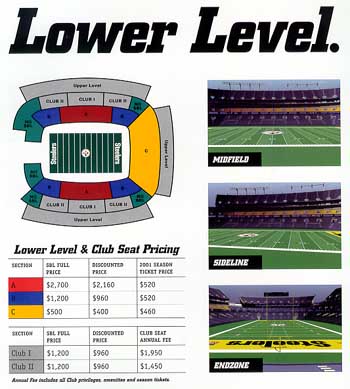 • Click HERE to see pics of the new practice facility on the South Side
This field is shared by the Steelers and the Pitt Panthers. The Steelers used to practice on the Three Rivers field.


For more pictures and info, go to:
KDKA Channel 2 in Pittsburgh

***** These pictures are not mine. They have been borrowed from their rightful owners to help show the *****
***** public what the new stadium is going to look like. In no way, shape, or form do I claim these as my own. *****
Last updated on September 11, 1999.

---

Disclaimer
In no way, shape, or form am I affiliated with the Pittsburgh Steelers or the NFL. I wish I had
married into the Rooney Family, but that just wasn't in the Plan.
---

Questions? Comments? Mail them to Ironic.
This page was made with Netscape Navigator® 4.0.
This page is the property of Ironic. © 1999.
This page is hosted by Tripod.
Gooooooo STEELERS!