The End of an Era in 19 Seconds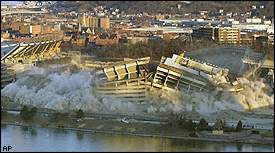 Click here for more information!
«««»»»
Check out the new stadium info and pics HERE!!!
«««»»»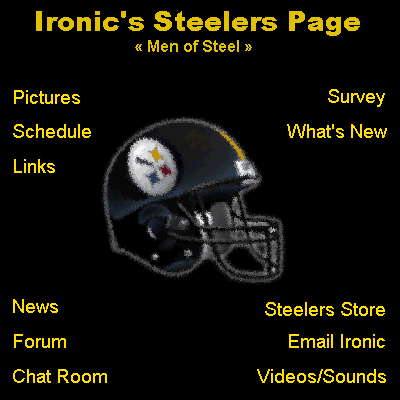 Pictures | Schedule | Links | News | Forum | Chat Room |
Survey | What's New | Videos/Sounds | Email Ironic
Buy Steelers Books and Videos



• 1999-2000 Cleveland Browns Team Photo •
Don't forget to fill out the Survey!
(Click on the SURVEY link below or in imagemap above.)
• STEELERS SURVEY •
• •
Would you like to be notified of FUTURE UPDATES of this page via Email?
(With the exception of weekly score updates.)
Then please sign up for the Updates via the ListBot button.







&nbsp

<! -- Begin Steelers Fan Ring Code -- !>

<! ========== END OF STEELERS FAN RING CODE======== !>


Click here for FREE Email @lovethesteelers.com!!!
You can now email Ironic at either ironic@lovethesteelers.com or ginamari@core.com. I check both daily.


http://football.com/main.html/

Click here to vote for us in the
1999 Internet Football Awards.

« The Stuff That Has to Be Here »
Disclaimer
I am not associated with the Pittsburgh Steelers Organization in any way, nor do my opinions reflect those of the Steelers Organization. I do not claim any images on these pages to be my own, unless otherwise noted. However, I will give credit where credit is due, so if you see a graphic that is yours, please notify me so that I can give you credit. I am simply expressing my support and love for the team, as a devoted fan -- as I have been ever since I can remember. "Daddy! Daddy! The Stealers won the Supper Boll," reads the note I wrote that my father still has from the first Super Bowl they won in the 70's.
<! -- Pagecount starts here -- !>
Would you rather sign my guestbook instead of sending me an email? Then click "SIGN GUESTBOOK" on the banner below.

<! -- End Pagecount -- !>





Any questions or comments?
Send them to Ironic.
This page was made with Netscape Communicator® 4.6.
This page is the property of Ironic.
This page is hosted by Tripod.
Gooooooo STEELERS!
Last Updated: February 11, 2001 at 3:04 PM, EST